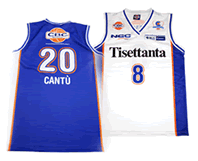 CBC SPORTSWEAR offers sublitex uniforms, the best available quality offered on worldwide market of competition uniforms!
This represents a special opportunity because you can choose any colors, no combinations limit. Sublitex is the new technology in the customization of the competition's uniforms. The drawing and coloring of the mesh, the logos of sponsors and the club or team logo, numbering, names of player, are made by a single print and are extremely guaranteed and durable to washing.
Sublitex permits a perfect reproduction of logos, designs, shades and images of high photographic quality. Today, after years of experiments and improvements, Sublitex products have bright colors and the highest level of comfort!
Any chosen design is available to both models for men's and women!